During this time of transition, conferences and live programming may look different, but OncLive® Events and PER®'s commitment to world-class education remains the same. Our proven live-stream conference platforms and innovative programming solutions will deliver all of the latest updates and allow you to educate your target audiences and share your latest products and services— with a few new additions to meet the evolving needs of the Oncology community. You can be assured that each event will deliver the same level of impactful education and unrivaled faculty access as ever.
ENGAGEMENTS
KOL Engagement Meetings - Live & Virtual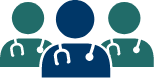 One of our most popular offerings, these one on one meetings with KOLs, regional leaders and community practitioners are a fantastic way to meet your next trial partners, gain personalized insights, break into a new institution or educate on your product. Allow OncLive to utilize our networks and arrange for these meetings onsite at conferences and take the heavy lifting of planning off of your team.
Advisory Boards & Steering Committees – Live & Virtual

When it comes to advisory boards or building out your steering committee, OncLive can help every step of the way. Not only can we handle the meeting/logistics management, we can work with your team on recruitment around the country and EU and handle contracting and processing honorarium. New to hosting advisory boards? Our teams can help develop content, build out your slide decks and provide an executive summary at the conclusion of the program. We are excited to unveil our newest virtual advisory board platform in 2020, REACH. Utilizing our new in-house REACH platform, you can reach national and international leaders by hosting multiple programs on the same day and customizing every aspect of the video program.
Regional Seminars and Dinner Events

Dinner meetings are a time-efficient method of presenting new information while gaining valuable insights in your target audience's neighborhood while providing a more relaxed setting to get to know physicians. Our team can take on the heavy lifting of planning, slide development, recruitment and onsite management.
EDUCATION
Product Theatres

Our team can create, coordinate, and manage all your onsite and/or virtual Product Theatres throughout the year at major US and non-US conferences. Based on your needs, we can deliver your entire program or focus on recruitment, content, or logistics.
OncLive® Scientific Workshops & Interchanges – Live & Virtual

OncLive® conducts independent focus groups throughout the year and around major conferences on high-interest disease state areas to gain unbiased insights and market trends to uncover how specific drug candidates fit into the larger treatment landscape. OncLive® will independently recruit eight to twelve academic or community advisors, develop the full two to three hour program, and manage all operations for the event. Your team will receive a live or virtual seat in the room and an executive summary following the program. In addition, our team utilizes our newest REACH interactive meeting platform for all programs
Speaker Bureau – Development & Management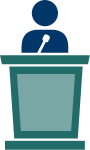 With our industry best practices, compliance adherence, and our team of onsite professionals, we can work collaboratively with teams to initiate, develop, and manage your entire series of programs.
EVENTS
Investigator Meetings
Investigator meetings and clinical trials go hand and hand. Successful investigator meetings bring enthusiasm to a study and can increase patient enrollment.
FDA Prep Meetings
You've spent years developing your product. Now you've got just one chance to make your case for it. OncLive will help your team and your Briefing Documents, presentations and responses to questions make the most compelling case for your product.
National Sales Meetings
It's critical that you and your management focus on the core goals of the meeting. We provide all inclusive turn-key national and regional sales meeting planning including: site selection, amenities, agenda, travel, logistics, meeting management and execution.
Product Launches
Your company has just come out with a new product. Now it's your job to make sure colleagues, customers, and leads know about it. Product launch campaigns should include an event in an effort to get people excited about the product and understand what makes your product different.
Strategic Meeting Management
When it comes to pre-meeting planning, on-site execution or post-meeting outcomes, OncLive Events and our team of meeting professionals can help with every step of the process from branding, and meeting sourcing to ensuring a white-glove experience onsite for all attendees. Post conference we ensure your will receive timely outcomes, evaluations and billing reconciliation at the conclusion of your meeting.
Customized Programming
Are you not seeing the exact program you are looking for? Looking to develop out a new type of event? Each week we are developing new programs and events to meet your needs. Reach out to a member of our team to discuss how we can best help your meet your goals